When you first see Al Pal you might think he is a clown!

Don't let the clothes fool you - he does spell binding magic suitable for all ages. He has performed his close up magic, and stage show all over Australia many times.

Al Pal has performed over 5,000 school shows in all states around Australia, and over 5,000 birthday parties from kindergarten to 100 year olds.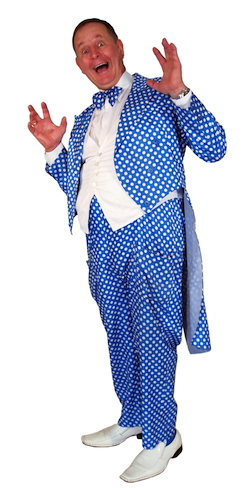 Alan is a proud member of
The Magic Circle of Victoria.
He will amaze you with his comedy magic and sleight of hand. His hilarious ventriloquist dolls will have you belly laughing in no time. He has a Toucan that moves and talks all by himself. Then there is Barney the Rabbit that sings songs and gets it wrong all the time.

He also has Sunshine the puppet that looks like a 10 year old boy. He is a very naughty boy, but you will love him for his funny wit. There are educational messages in the routines that the children can learn from.


Kids will also love Al Pal's juggling skills. Sometimes he also teaches the kids how to juggle.

The white doves are always a huge hit. Just producing them is not enough for Al Pal, they even do tricks and fly on cue to their stand.

One performance where he did close up magic for 10 scientists and the booker was amazed. He quoted "Wow! They all are the top scientists of BHP and you just blew them away!" You can always expect a professional performance from this talented performer.